Printer Friendly Page
95-Gallon Recycled OverPack Salvage Drum
#A95OVER-RC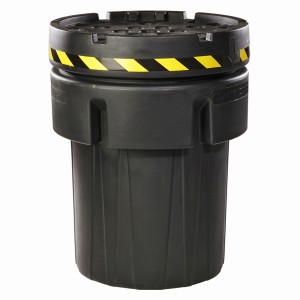 To view your exclusive pricing,
please
Sign In
.

Description
This eco-friendly OverPack is constructed of 100% recycled polyethylene, making it an ideal choice for a greener workplace. Stock with sorbents for emergency spill response, or use it as a salvage drum to ship damaged containers or hazardous waste.
DOT-Approved for Salvage
DOT-approved and Y-rated for use as a salvage drum. Helps companies conform to federal regulations when shipping damaged or leaking containers of hazardous materials, or absorbents contaminated with hazardous substances.
Perfect for Spill Kits
Stores sorbent products (not included) for easy access as needed for spill control. Saves time when quick response is necessary.
Sturdy Construction
100% recycled polyethylene OverPack resists chemicals, rust and corrosion for years of use. Integrated handles make it easy to lift, move or carry with standard material handling equipment. Twist-on, double-wall lid with closed-cell gasket provides sealed, secure closure to prevent leaks and protect contents from moisture, dirt and damage. Durable to withstand rough handling.
Customized for You
We can customize a Spill Kit to your exact specifications, including contents and accessories, with no upcharge! Contact your local Distributor for details.
Specifications
Dimensions

-

ext. dia. 32.25" x 41.5" H
Shipping Dimensions

-

33" W x 33" L x 43" H
Sold as

-

1 per package
Color

-

Black
Composition

-

Polyethylene
Recycled Content

-

100% Post-Industrial Recycled Polyethylene
Weight

-

48 lbs.
# per Pallet

-

4
Incinerable

-

No
UN RATING

-

1H2/Y345/S/**/USA/M5904
Ship Class

-

250
UNSPSC

-

24112109

Technical Documents
Regulations and Compliance
49 CFR 173.12(b)

-

A container used for labpacking must be "a UN 1A2 or UN 1B2 metal drum, a UN 1D plywood drum, a UN 1G fiber drum or a UN 1H2 plastic drum tested and marked at least for the Packing Group III performance level for liquids or solids."
49 CFR 173.12(b)(2)(iv)

-

When labpacking, "Inner packagings…must be surrounded by a chemically compatible absorbent material in sufficient quantity to absorb the total liquid contents."
49 CFR 173.3(c)(1)

-

If a container of hazardous waste is damaged or leaking, it can be placed in a compatible salvage drum that meets UN criteria for shipping
There are no known notices or warnings for this product.