Our Technology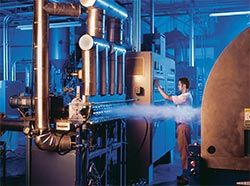 What Does "Building Technology into Every Product" Really Mean?
It means a lot of things:
It means combining traditional and new technologies to create industry-first solutions for difficult problems. By using cutting-edge BIAX manufacturing and an existing MeltBlown process, SpillTech developed innovative FineFiber, AirLaid and MultiLaminate technologies for more effective spill control in a variety of settings.
It means finding the finest materials and then blending them together in unique ways to pack as many benefits as possible into one product. SurvivorSeries™ Pads and Rolls were only possible after we ultrasonically sandwiched three different types of polypropylene layers together to form this durable, highly absorbent and floor-gripping Mat.
It means making technology work harder to increase the value of each product. With multiple horizontal and vertical perforations, SpillTech® Mats let you use just the amount needed for less waste and greater cost savings.
It even means fostering an attitude of never being satisfied with how things are. We are relentlessly committed to discovering "a better way," no matter how challenging or daunting a task it may be. SpillTech will always be on the forefront of product design.
So, what does this all mean for you? It means that, whether it's today or twenty years from now, you can turn to SpillTech for exemplary service and state-of-the-art products that will improve workplace conditions, keep workers safer and make jobs easier.
More Specifically, Here's the Kind of Product Technology We're Talking About:
SurvivorSeries™ technology ultrasonically bonds three different types of materials to produce mat that keeps looking good. Tough Spunbond layer on top stays clean and dry as liquids are drawn into the inner MeltBlown layer. The bottom FineFiber layer features densely woven strands that increase surface area so the mat grips the floor for safer walking. Ideal for high-traffic areas.
FineFiber technology produces densely woven, small-diameter strands of fiber to increase surface area for fast absorption and firmer grip. Add 3-ply construction for extra durability and you have a mat that you can walk on safely and is virtually indestructible to foot traffic.
MultiLaminate technology produces a super-strong, heavy-weight mat for rugged applications. Outer spunbond layers constructed of continuous strands of interwoven polypropylene fibers provide toughness while the MeltBlown inner layer draws and traps ugly grime inside. Resistant to tears and abrasions, this mat is perfect for lining tool cribs and placing under jagged parts and heavy equipment.
AirLaid technology produces resilient, bounce-back polypropylene fibers with uniform pockets of air space that sorb and hold liquids. Insert AirLaid polypropylene between two layers of tough spunbond and bond ultrasonically for added strength. Now you have an ideal mat for wrapping around pipes or fitting into tight spots to help maintain a cleaner, safer workplace.
SonicBonded technology produces a high-loft mat for faster, greater absorbency. Fuse the layers together with ultrasonic weld points, and you've got a mat that sucks up to 57.5 gallons per roll and keeps its shape, even when fully saturated. In other words, it won't fall apart! Great for overspray areas and indoor spills where clean, dry floors are important for safety.
MeltBlown polypropylene fibers in their natural state are hydrophobic. Hydrophobic fibers repel water (and float) while only sorbing oils and other hydrocarbons. Loose-stacked weave construction increases surface area and begins to sorb on contact. Ideal for quick, effective clean up of large oil spills on land or water.
You can understand why SpillTech® Sorbent Products are considered among the finest made for more effective spill control. Choosing SpillTech® Products is the smarter way toward the vital goal of maintaining a clean, safe, and more productive work environment.
Click here to Become a Distributor